The "FMV LIFEBOOK CH90 / E3" (hereafter CH90 / E3) released by Fujitsu Client Computing (FCCL) on December 10, 2020 is a 13.3-inch notebook computer that uses an organic EL display. While adopting an excellent display device that allows you to enjoy the vivid colors and depth of black that are a bit different from liquid crystal displays, the actual selling price of around 170,000 yen is quite profitable.
The highlight of CH90 / E3 is not limited to organic EL displays. With a stylish design, a thin and lightweight housing, HDMI "input" function, various linkage functions with smartphones, and functions for business users such as microphones and speakers for telework, it is a truly easy-to-use mobile notebook. Has been done.
Overwhelming display ability, tricks to make use of it also shine
The CH90 / E3 is a high-end model of FCCL's Fall / Winter 2020 model "FMV LIFEBOOK CH" series, and is equipped with a 13.3-inch organic EL display as mentioned above.
The CPU is Intel's 11th generation processor "Core i5-1135G7", which was code-named "Tiger Lake". It is equipped with a total of 8GB of dual-channel LPDDR4X-4266 compatible memory, and is configured to draw out the power of the CPU.
The "CH75 / E3" is also available as a lower model for over-the-counter sales. The CPU and memory configurations are the same, but the display is LCD instead of organic EL, and the storage is 512GB for CH90 / E3, while it is 256GB for CH75 / E3. The actual selling price is in the mid 150,000 yen range.
FMV LIFEBOOK CH series specifications
Model name
CH90 / E3
CH75 / E3
OS
Windows 10 Home
Microsoft Office
Home & Business 2019
CPU (maximum operating clock)
Core i5-1135G7 (4.2GHz)
Memory (empty slot)
8GB (LPDDR4X-4266, dual channel)
storage
512GB (PCI Express)
256GB (PCI Express)
display
13.3 type (1,920 x 1,080 dots, organic EL)
13.3 type (1,920 x 1,080 dots, liquid crystal)
communication
Wi-Fi 6 (IEEE 802.11ax), Bluetooth 5.0
Main interface
Thunderbolt 4 x 2 (USB PD / DisplayPort Alt Mode compatible), HDMI (input / output compatible), headphone / microphone combined
keyboard
Japanese keyboard
camera
920,000 pixels
Battery life
About 13.4 hours
About 16.8 hours
body size
307 x 207 x 15.8 mm (width x depth x height)
weight
About 1.11kg
About 988g
Actual selling price
Around 170,000 yen
Mid-150,000 yen
I was really looking forward to touching the large organic EL that is the size of a laptop computer, not a smartphone or tablet, because it was lonely, but it is an excellent display that does not disappoint. The freshness of the greenery of the vegetation and leaves, the vividness of the red petals, and the detailed details inside the dark basin are expressed with an overwhelming amount of information.
I have touched on liquid crystal displays with high display quality, but I still feel that they are not comparable to the beauty of organic EL. Even when playing a video, you can enjoy a very beautiful and smooth image without dropping frames or stuttering. I tried various video distribution services, but I just watched the video for a while.
Looking only at the fineness, if the resolution is the same, there is not much difference between organic EL and liquid crystal. However, when displaying images and videos with a strong contrast ratio such as night views, the characteristics and strengths of self-luminous devices stand out. The night in the background is dark as it sinks, and people and buildings are expressed as if they emerge from the background. Even though it is not a 3D image, the sense of depth is amazing.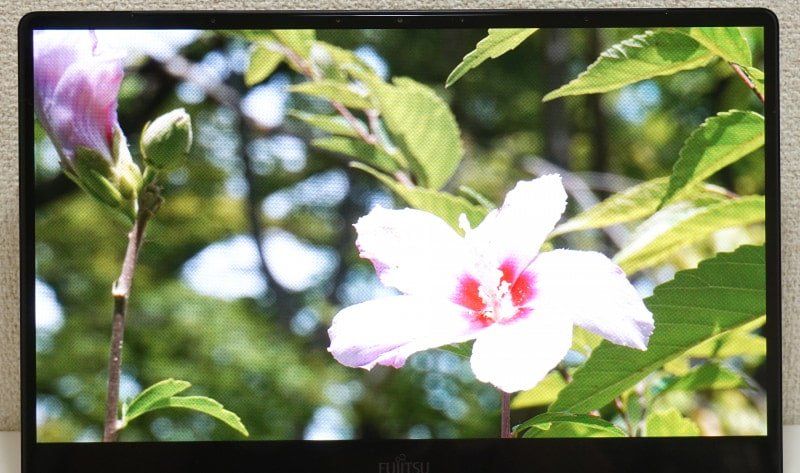 In this way, the expressive power of organic EL is overwhelming. Moreover, the actual selling price of CH90 / E3 is only about 15,000 yen different from CH75 / E3 equipped with LCD. Considering that CH90 / E3 has 256GB more storage capacity, the cost increase due to organic EL is about 10,000 yen. To be honest, it is no exaggeration to say that it is surprisingly cheap.
The "HDMI input" function is perfect for users who want to enjoy this kind of visual beauty with a wider variety of content. The HDMI mounted on the left side of this unit actually has both an output function and an input function. You can create a multi-display environment using this HDMI like a general laptop computer, or you can connect a BD recorder or game console and use CH90 / E3 as a display.
The HDMI input function is easy to use, just hold down the [Fn] key and press the [F12] key. HDMI will now switch to input mode and the video of the device plugged into HDMI will be displayed.
When I tried connecting various small game machines such as Sega Sammy's " Astro City Mini " and " Mega Drive Mini ", which has been increasing recently, the reaction speed peculiar to organic EL is also good, and the movement is fast like a game. I felt that it was the best match combination for the content. No, it's really fun.
sMedio Smartphone data transfer is convenient, but be careful about how to handle it
In software, the function of linking with smart devices such as smartphones is interesting. First, let's introduce the "smartphone music playback" function that allows you to enjoy the sound of smartphones connected via Bluetooth with the CH90 / E3 speakers.
As a first preparation, pair your smartphone with CH90 / E3 via Bluetooth. Next, start this smartphone music playback app and play the music on the smartphone side. Once paired, it will automatically connect to your smartphone each time the smartphone music playback app is launched.
Since all the sounds on the smartphone side are output to CH90 / E3, not only music distribution services such as "Amazon Music" and "Spotify" but also sounds such as YouTube can be enjoyed through the built-in speaker of CH90 / E3. As for the sound quality, the bass part was quiet, but it was excellent in transparency, and it was a sound with a high resolution.
It also has a function called "Dirac Audio" that supplements the outline of the sound and the bass range that feels weak in the standard setting. Basically, it is a level that does not exceed the range of speakers built into a personal computer, but compared to smartphones and tablets, the stereo feeling and expressive power of the treble part are considerably higher. It's enough to enjoy music and games casually at a hotel on a business trip.
#ffffff;"> "SMedio smartphone data transfer" is an application that allows you to easily exchange files such as images and document data, URLs of map applications, etc. between your computer and smartphone. Normally, you need to use the cloud or connect directly with a cable to communicate, but if you use sMedia smartphone data transfer, you can easily communicate using a PIN code or QR code.
#ffffff;"> With these functions, I wondered if it was necessary to set up a connection and security between the computer and smartphone, but that kind of troublesome work is not necessary at all. Since the sMedia smartphone data transfer app is already installed on CH90 / E3, install "sMedia smartphone data transfer" from the app store on the smartphone side. This is all you need to prepare.
The procedure for transferring files is also very easy. Drag and drop the file to the sMedia smartphone data transfer window on your computer, and when the data upload is complete, the PIN code and QR code will be displayed. If you enter this PIN code into the sMedio smartphone data transfer on the smartphone side or scan the QR code, the file will be downloaded to the smartphone side.
In short, this is also one of the file exchanges via the cloud. It's easy to understand if you think of it as something that is easy to use without the troublesome authentication work of user IDs and passwords. It's easy to exchange files with others because you only need to tell them your PIN or QR code.
It's easy to use, but anyone who can get a PIN code or QR code can get a file, so there is no problem in terms of security. You should stop working with important files. I want to tell the generated PIN code and QR code only to the person who sends the file so that it cannot be stolen by others.
You can download up to 3 times for each generated PIN code. Once the file is received, the receiving PIN code and QR code will be invalidated in 30 minutes. Even if it is not received, it will not be available in 24 hours. Security-like security is a feature that is almost nonexistent, but these time limits may be a substitute for security.
Loose keyboard, high performance of GPU with built-in CPU
The model I tried this time is a deep khaki color. The surface treatment that shines dullly creates a profound feeling while maintaining the texture of metal. I think it has a much more presence than the silver of a general mobile notebook. You may not be able to see it in the photo, so please actually pick it up and check it.
The display is a narrow type and is compact overall. The width is 307 mm, the depth is 207 mm, and the thickness is 15.8 mm, which is similar to a mobile notebook equipped with a 12-inch panel a few years ago. If it is a general business bag, it should be able to be stored without problems.
The key pitch is 19mm, which is the same as a general laptop computer. I haven't used up the space on both sides, but it feels quite spacious. In fact, even after typing for a long time, the movement of my fingertips was almost the same as the full-size keyboard for my own PC that I usually use.
In addition, almost all frequently used keys are of normal size, so there is no chance of getting lost in the movement of your fingertips. The cursor keys are a little small, and there is plenty of space, so operation mistakes are unlikely to occur. However, although it is in Japanese, there is no kana printed on the key tops. Kana input users may need to be a little careful.
The interface is very simple, with Thunderbolt 4 and HDMI on the left side and one Thunderbolt 4 and one USB 3.2 port on the right side as mentioned above. Both Thunderbolt 4 support USB PD and DisplayPort Alt Mode. It is convenient that you can connect the mobile LCD or AC adapter to either the left or right terminal.
The upper part of the display is equipped with a Web camera equipped with a face recognition function and four microphones. This is a useful feature when using online conferencing apps such as Zoom and Teams, as it allows you to input clear voice over a wider range than a single microphone.
Finally, let me introduce the results of the basic benchmark test. For comparison, Lenovo's "ThinkPad T14 Gen1 (AMD)" (hereafter T14) was taken up. From the BTO menu, the CPU is changed to "Ryzen 5 PRO 4650G", the memory is 16GB (PC4-25600 dual channel), and the SSD is changed to 1TB model.
Intel's Core i5-1135G7 and AMD's Ryzen 5 PRO 4650G are both CPUs for mid-sized models with the same standard TDP of 15W. You can think that the positioning is almost the same. Since T14 has more memory and storage capacity, it is not a strict comparison, but I would like you to refer mainly to items where the pure performance of the CPU and the performance of the built-in GPU are likely to appear.
Benchmark results
CH90 / E3
ThinkPad T14 Gen1 (AMD)
PCMark 10 Extended v2.1.2506
PCMark 10 Extended score
4,001
3,995
Essentials
9,259
8,939
App Start-up score
11,867
11,261
Video Conferencing score
7,658
7,828
Web Browsing score
8,735
8,104
Productivity
6,260
7,370
Spreadsheets score
5,513
9,063
Writing score
7,109
5,994
Digital Content Creation
4,068
4,531
Photo Editing score
6,555
6,771
Rendering and Visualization score
2,363
4,136
Video Editing score
4,347
3,233
Gaming
2,939
2,306
Graphics score
4,018
3,018
Physics score
9,633
13,451
Combined score
1,228
982
PCMark 10 Battery Test v2.1.2506
* Battery saving function] is enabled, the brightness of the liquid crystal is 40
Modern Office
11 hours 39 minutes
—
3DMark v2.16.7113
Time Spy
1,442
1,068
Fire Strike
3,815
2,798
Sky Diver
12,180
9,902
Cinebench R23.0
CPU
3,754
5,610
CPU (Single Core)
1,330
1,170
Cinebench R20.0
CPU
1,669
2,158
CPU (Single Core)
493
452
Cinebench R15.0
CPU
654
954
CPU (Single Core)
189
176
Crystal Disk Mark 7.0.0h
Q8T1 sequential read
2,338.89 MB / s
3,470.82 MB / s
Q8T1 Sequential light
1,449.1 MB / s
2,891.2 MB / s
Q1T1 sequential read
1,514.32 MB / s
1,517.55 MB / s
Q1T1 Sequential light
1,256.11 MB / s
1,913.03 MB / s
Q32T16 4K random read
399.25 MB / s
725.3 MB / s
Q32T16 4K Random Light
248.14 MB / s
388.52 MB / s
Q1T1 4K random read
36.2 MB / s
44.01 MB / s
Q1T1 4K Random Light
65.73 MB / s
121.54 MB / s
TMPGEnc Video Mastering Works 7
* Compresses about 3 minutes of full HD video in H264 / AVC and H.265 / HEVC formats
H.264 / AVC
7 minutes 20 seconds
3 minutes 51 seconds
H.264 / AVC
(Quick Sync Video / Video Coding Engine enabled)
52 seconds
43 seconds
H.265 / HEVC
11 minutes 59 seconds
6 minutes 50 seconds
H265 / HEVC
(Quick Sync Video / Video Coding Engine enabled)
56 seconds
41 seconds
PCMark 10 gave almost the same result in the overall score. However, CH90 / E3 was generally superior in Essentials, which is an index of daily application usability, and Gaming, which reflects game performance, and T14 was generally superior in Digital Content Creation, where CPU processing performance is important.
In 3DMark, which reflects the graphics performance, CH90 / E3 leads significantly and beats T14. The high performance of the "Iris Xe Graphics" built into the Core i5-1135G7 is a clear result. For a long time, the situation that "the GPU with built-in CPU is higher than AMD" has continued, but it can be seen that it has also been reversed in the Tiger Lake generation.
On the other hand, Cinema 4D's multi-core and video encoding speeds make the T14 overwhelmingly strong. The difference in the number of CPU cores and threads that the Core i5-1135G7 supports 4 cores and 8 threads and the Ryzen 5 PRO 4650G supports 6 cores and 12 threads may have led to these results.
Laptops with organic EL have become so cheap!
A notebook computer equipped with an organic EL display was a rare species in the ultra-high price range of around 300,000 to 400,000 yen three or four years ago. Recently, the number of installed models has increased, and it has become possible to purchase for 200,000 to 250,000 yen, but even so, models as cheap as CH90 / E3 are rare.
The actual selling price of the lower model CH75 / E3 equipped with a liquid crystal panel is in the mid-150,000 yen range, and the weight is about 988g, which is less than 1kg. The CH90 / E3 weighs about 1,110g, which is a disadvantage in terms of weight, but considering that it costs around 170,000 yen with organic EL (and with Office Home & Business 2019!), I would like to use this CH90 / E3 without complaint. Choose.
It is equipped with a solution that allows this organic EL to be used in other than the display of a laptop computer, and is equipped with a number of functions to improve usability, such as a function for linking with smart devices that can be easily used, further increasing the sense of purchase. .. It can be said that it is one of the most notable autumn / winter models of each company.