The service is scheduled to start on June 11th.




Strongly aware of Sharp's Color Zaurus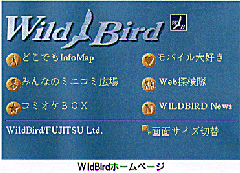 '96 / 5/13 Announced at the recital
'96 / 6/11 Scheduled to start
Price: undecided
Fujitsu announced that it will start the information service "Wild Bird" on the Internet from June 11th, which is mainly aimed at accessing from mobile information terminals. "Wild Bird" consists of "Wild Bird Center" that manages users and billing necessary for the operation of various information services, and "Wild Bird Service" that provides information by WWW. In addition, "ZAURS PLAZA" will be opened by Sharp Corporation as a WWW service on the Wild Bird Center .
 Not only ZAURS PLAZA but also Wild Bird service was announced the other day, and we are strongly conscious of access from Color Zaurus, and in addition to the usual VGA size, a 320 x 240 dot screen for Color Zaurus will be prepared. There has been a partnership between Sharp and Fujitsu regarding mobile information terminals, and this time it has been taken over.
[Paid content for "Wild Bird Service"]
"Dokodemo InfoMap" Based on Zenrin's residential map, "Tokyo Walker Entertainment Map" (town information: Kadokawa Shoten) and diamond company information are provided.

"Minna no Mini Komi Square" public bulletin board

"Komioke BOX" mailing list limited to 15 members
[Free content of "Wild Bird Service"]
"I love mobile" Links about mobile devices

"Web Expedition" Directory service whose theme changes every month

"Wild Bird News" Links to news, weather forecasts, newspapers, magazines and more
 For the time being, it will be released for free as a trial period, and some of the services will be charged from this fall. The charge system is undecided, but it seems that the monthly basic charge and the usage charge will be set for each service. In the future, services such as reservations and online shopping are also planned. However, since the WWW browser of mobile information terminals such as Color Zaurus does not have a security function, the initial membership application method and personal authentication at the time of billing will be considered during the trial period.
 Fujitsu is aiming to acquire 50,000 members by the end of this year and 500,000 members in three years.
 In addition, the content of ZAURUS PLAZA provided by Sharp is undecided at this time.