The United States Intel held an online press conference at CES 2021 and announced the vPro version of the 11th generation Core processor (development code name: Tiger Lake) announced in September and the vPro version of "Evo platform".
In addition to announcing the 11th generation Core H35 series, it revealed the existence of CPU 8 core products of the 11th generation Core H series for gaming PCs, and "Alder Lake-" for the desktop of the next generation processor "Alder Lake" We demonstrated the operation of "S".
vPro version 11th generation Core, vPro version Evo officially announced, Ice Lake 3rd generation Xeon SP will start mass shipment
Mr. Gregory Bryant, Senior Vice President of Intel and General Manager of CCG (Client Computing Business Headquarters) Business Headquarters, will be on stage at the press conference. "Intel's business is diverse and covers a wide range of applications, from PCs to the cloud," Bryant said at the outset, starting with the cloud-side topic of Xeon processors.
According to Brian, the third-generation Xeon Scalable Processors, codenamed Ice Lake, are already in mass production. A formal announcement will be made in the coming months. Intel announced Cooper Lake for 4 sockets and above in 2020, and Ice Lake is the next 3rd generation Xeon SP product with 2 sockets, manufactured according to the 10nm process rule.
For client PCs, four new processor products for business, education and high performance were announced.
One is the 11th generation Core vPro platform, which is the vPro version of Tiger Lake, the 11th generation Core processor announced by Intel last September. vPro is a version of Intel CPU with added security and management functions for enterprises. Of the 10th generation Core processors, Ice Lake, which is manufactured at 10nm, has not provided a vPro version, so it will be the long-awaited 10nm version vPro for corporate users.
The CPU will also be equipped with the industry's first hardware-based ransomware and AI capabilities to detect crypto mining attacks.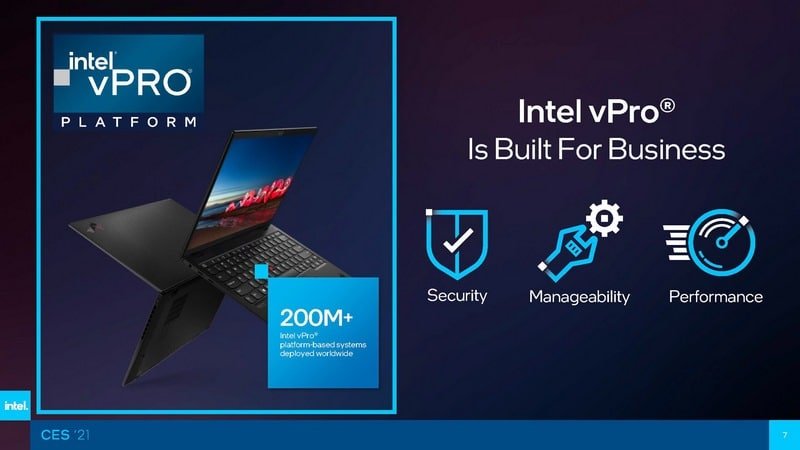 As a demo of this vPro, AMD-based laptops and laptops with 11th generation Core vPro were compared. Even if you accidentally access a site that abuses control flow, the vPro version was properly protected by using CET (Control Flow Enforcement Technology), but it will be abused by AMD that does not support vPro. The situation was released.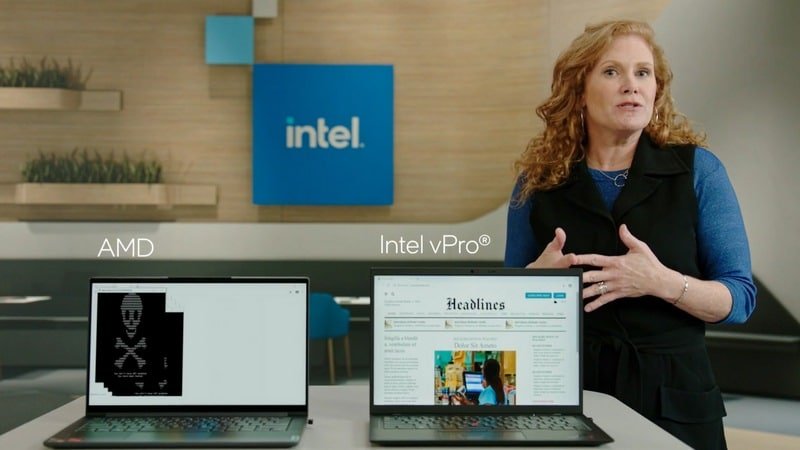 In addition, the vPro version is also on the Intel Evo platform, which is a mechanism that authenticates the system equipped with the 11th generation Core processor to meet the user experience (performance, battery life, etc.) defined by Intel. Was introduced, and it was also revealed that "vPro" will be included in the logo sticker.
Demonstration of educational products, Tiger Lake for 8-core gaming PC, and Alder Lake
For education, we announced new products, Pentium Silver and Celeron, known as Jasper Lake's development co-names . According to Intel, the market for educational PCs has been growing at a high rate of 30% compared to last year, partly because remote lessons have attracted attention due to the spread of COVID-19 infection, etc. He explained that it is a market that will be focused on.
There were no new updates for the 11th generation Core S, also known as Rocket Lake-S, but it was revealed that new features related to AI will be implemented.
After that, the " 11th generation Core H35 series " known by the code name of Tiger Lake H35, which is also introduced in another article, was explained, and NVIDIA's unreleased single GPU was used as a system equipped with the 11th generation Core H35. The on-board system was introduced, and it was revealed that it is expected to achieve a high frame rate. In addition, numbers etc. were not disclosed because it was before the announcement of NVIDIA.
And for the new 11th generation Core H series scheduled to be announced later this year, it was revealed that a SKU equipped with an 8-core CPU will be introduced, and its die and package have been released. The 8-core 11th generation Core H series has a PCH in an external package (that is, the form used by H series processors in the 10th and 8th generations). You can see it. In turbo mode, it reaches 5GHz and realizes desktop-like performance such as supporting 20 lanes of PCI Express Gen 4, and it is possible to use 4 lanes for storage and 16 lanes for GPU.
Finally, the baton was returned to Mr. Bryant, and finally a live demonstration of Intel's next-generation processor "Alder Lake" was shown. Alder Lake covers both desktops and laptops, with two types of CPUs, high performance and high efficiency, which can run both at the same time or just the high efficiency core. It has both high performance and low power consumption. According to Brian, it's complete enough to run Windows. Alder Lake is scheduled for release in late 2021.