570,000 pixels and best-in-class resolution




Up to about 5,500 shots possible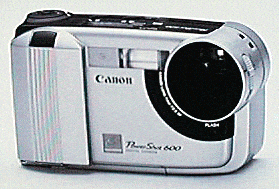 Announced on May 13, '96
Standard price: 128,000 yen

#ffffff; display: inline !important; float: none;"> Canon will release the "PowerShot 600" ultra-high-definition digital camera equipped with a 570,000-pixel CCD from early July.
 The PowerShot 600 is compatible with PCMCIA TYPE2 / 3 as a recording medium, and you can select a PC card with ATA specifications according to the application, and you can shoot up to about 5,500 images.
 Since the card is ATA standard and the image file format is JPEG, it can be read as it is by setting it in a laptop computer or the like.
 The standard image resolution is 832 x 608, and 640 x 480 and 320 x 240 dots can also be selected. Furthermore, depending on the compression rate, the image quality can be selected from three levels: fine, normal, and economy. The price is 128,000 yen, which is a little high for a popular model, but it is very excellent in terms of specifications, and it is the appearance of a digital camera that can not be tested. The Windows version of the software is only compatible with DOS / V, and support for Windows for PC98 is scheduled for October.
[Features of PowerShot 600]
High image quality by combining a 1 / 3-inch CCD with 570,000 pixels and a high-resolution single-focus lens with 6 elements in 6 groups equivalent to 50 mm on 35 mm film.

Wide-angle converter is available as an option, and 28mm wide-angle shooting is possible when converted to 35mm film.

Uses autofocus (AF), autoexposure (AE), and auto white balance (AWB)

All-in-one package with necessary software and hardware as standard equipment [Camera station, Nikkado battery, battery charger, neck strap (hardware), TWAIN driver (for Windows), Photoshop plug-in module (for Mac only), album, file format Conversion, simple layout software (more than software)]
The memory is equipped with 1MB in the main body, and the storage medium can be an ATA specification PC card, compact flash (using an adapter), HDD card, etc.

When using a 170MB HDD card, you can shoot 800 shots even in the fine mode of 832 x 608 dots, which has the best image quality.

A high-quality monochrome mode is also available for shooting instead of memos.

Audio recording is possible, and the file format is WAV format.

Convenient for recording comments during shooting

Strobe equipment

Size: 159.5 x 58.8 x 92.5mm Weight about 400g (main unit only)

The viewfinder is optical