"The Connected PC" Focuses on the




Internet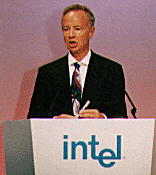 '96 / 5/8 at: Hotel New Otani

 From 14:00 on the 8th, a seminar entitled "The Connected PC" was held by Mr. Andrew S. Grove, President and CEO of Intel Corporation.
 The focus was on PCs connected to the Internet, and Intel Japan President Nishioka also demonstrated content on the Internet and electronic conferencing systems.
 The content was mainly about the Internet, and the presentation was that a PC with Intel's Pentium was the best for it, and no new technical information was released.

[Main contents]
○ Current status of the
 personal computer business The personal computer business continues to expand, approaching 100 million units annually.
 According to DataQuest, shipments of Pentium processors are going well, with 67.5% of PC shipments in Japan in the fourth quarter of 1995 equipped with Pentium.
 At the same time, the average number of clocks of the Pentium processor shipped to the Japanese market was 128 MHz, which exceeds the US and European markets.
○ The Connected PC
 Keywords representing PCs interconnected via the Internet
 MMX version Pentium, video conference function, 3D graphics, DVD player, etc. are key technologies
○ Hybrid application
 To overcome the bandwidth limitation of Internet connection, CD- An application that makes good use of storage such as ROM and the Internet.