Multimedia notebook with CD-ROM and




new model of Latitude XPi series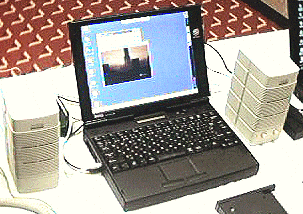 '96 / 5/9 presentation
Standard price:
Custom-made system, so it depends on the specifications
Contact:
Dell Computer Limited
Tel. 03-5466-6200

Dell Computer Co. , Ltd. announced on the 9th a new model "Latitude LM-P-133ST" equipped with a 4x speed CD-ROM drive and a 12.1-inch SVGA color display, and two new models of the XPi series.
 The Latutude LM P-133ST is Dell's first CD-ROM-equipped machine and is primarily intended for presentation purposes. Shipment is scheduled for early June
[Features of LM P-133ST]
Equipped with Pentium 133MHz

The chipset is Mobile Triton.

The secondary cache is a write-back cache 256KB *

NeoMagic MN2070 128bit Graphic Accelerator Chip

Lithium-ion battery.

Can operate for 3 to 5 hours (6 to 10 hours when used with a second battery)

SoundBlaster Pro compatible sound source

Built-in speaker and microphone

Pointing device: touchpad

Size: 299 x 226 x 50 mm: Approximately 3.06 kg

Custom-made system that can specify HDD, RAM capacity, etc.

448,000 yen for a combination example of 16MB RAM / 810MB HDD
* At the time of breaking news, the secondary cache was described as PBSRAM, but due to an error in the material, it was a write-back cache. I will correct it. (6/11)
 Also, the latest model of the Latitude XPi series is equipped with a 133MHz / 100MHz Pentium. The adoption of optical trackballs and Sound Blaster Pro compatible sound sources is new. This will start shipping on the same day. For example, the 133MHz "Latitude XPi P133ST" costs 399,000 yen for a 16MB RAM / 810MB HDD, and the 100MHz "Latitude XPi P100SD" costs 284,900 yen for an 8MB RAM / 540MB HDD.
 The price revision of the "OptiPlex GX" series of desktop PCs was also announced at the same time. The price has been reduced by 13 to 24%.