Mouse with "Hyper Jump Function" for Windows 95 only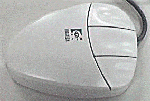 '96 / 4/26 News Release Announcement
Standard price: 6,980 yen
Contact:
Logitec Pacific Customer Relations Center
Tel.03-3578-8688


#ffffff; display: inline !important; float: none;"> Logitech subsidiary Logitech Pacific Co., Ltd. has released "Mouseman 96" designed for Windows 95. The standard price is 6,980 yen.
 The Mouseman 96 is a DOS / V machine mouse that supports both PS / 2 and 9-pin serial ports.
 The biggest feature of Mouseman 96 is the "hyper jump" function, and when you click the button in the center of the mouse, a panel like the one on the right pops up, making it easy to select common operations in Windows 95.

 The following eight functions can be used with the hyper jump function.
Jump to the start button

Jump to the previous window

Show pull-down menu

Window minimization

Close window

Jump to the vertical scroll bar

Change window size

Jump to the horizontal scroll bar