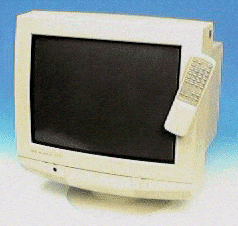 Announced on April 22, '96
Price: 128,000 yen
Contact:
NEC PC Information Center
Tohoku Tel.022-262-9800
Tokyo Tel.03-3452-8000
Nagoya Tel.052-251-9800
Osaka Tel.06-943-9800
Kyushu Tel.092-262-9800
NEC PC Information FAX service
BOX number 2116
Tokyo 03-3769-9821
Osaka 06-304-9821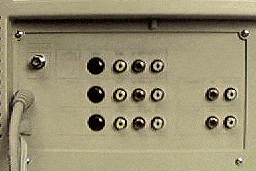 As a new product in the multi-sync series, NEC has released the "multi-sync 17TV," which is the first 17-inch monitor equipped with a TV tuner and allows you to enjoy TV.
 In the past, products with built-in TV tuners were limited to 15 inches, but the mainstream of stand-alone monitor products has already shifted to 17 inches, meeting the needs of the market.
 It has a built-in stereo speaker on the front of the main unit, and can be operated with a remote control in the same way as a normal TV.
 It also has two video inputs, each with an S terminal. It also has an AV select function that outputs the selected source through from the TV and two video inputs.
The upper part is a little low at 65.0kHz, probably because the lower part of the horizontal frequency is extended to 15.5kHz, but it is an interesting existence for home use.
[Specifications] CRT section: 17-inch flat black matrix CRT, low-reflection antistatic coat, dot pitch 0.28 mm, horizontal scanning frequency 15.5 to 65.0 kHz, vertical scanning frequency 55 to 100 kHz, VESA DDC1 / DDC2B Plug & Play function installed


TV section: Audio Built-in multiple decoder, stereo speaker (1.5W x 2), S input terminal, RCA input terminal




Size (length x height x depth): 424 x 458 x 465 mm, weight: approx. 19.1 kg