No feature connector required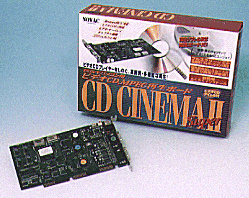 '96 / 5/1 News Release Announcement
Standard price: 23,800 yen
Contact:
Novak Tel. 03-3817-8711


#ffffff; display: inline !important; float: none;"> Novak Co., Ltd. will release the MPEG playback board "CD CINEMA II Super" for DOS / V personal computers (ISA bus) from May 8th. The standard price is 23,800 yen.
 The company has sold more than 50,000 video CD playback software "CCDVP95 series" for Windows since January this year, but by providing a low-priced MPEG playback board, it will meet the needs for higher quality MPEG playback. It is said.
 The main features of "CD CINEMA II Super" are as follows.
Low price (39,800 yen for the conventional "CD CINEMA II")

Video can be imported as a full-color still image

No need for future connector, high compatibility with video card

Overlay is possible up to 1,024 x 768 dots

Video CD 2.0 compatible