Performa series that makes it

easy to connect to the Internet,

even easier for beginners to use and powerful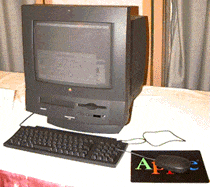 Announced on May 28, '96
Standard price: Macintosh Performa 5260, 5270, 5410, 5420
all open price
Contact: Apple Customer Assistance Center
Tel.0120-61-5800 / Fax.0120-62-5800

 Apple Computer Co. , Ltd. announced a new product in the Macintosh Performa series on May 28th. There are four new products, Performa 5260/5270 for the home market and 5410/5420 for business use.
 The new Performa is designed to be even easier for beginners to use, such as making it possible to print out simply by connecting a printer cable. In addition to Internet software such as Netscape Navigator and Eudora Pro, ClarisWorks, addressing software, English-Japanese dictionary, etc. are included as standard.
 The main difference is that the 5260/5270 for home use uses the PowerPC 603e (100MHz) as the CPU, and the 5270 is equipped with a video input and TV tuner as standard.
 The 5410/5420 is equipped with a PowerPC 603e (120MHz) CPU and has one PCI bus slot to provide performance that can be used for business purposes. The 5420 is equipped with a video input, TV / FM radio tuner, and 256KB of secondary cache memory.
 The 5420 has adopted the first black housing for the domestic market, and is likely to attract the attention of Macintosh fans.
[Features of new Macintosh Performa products]
Size / Weight: 445 x 383 x 406 mm / 21.2 kg

Memory: 16MB SIMM x 1 (5260/5270), 8MB onboard, 8MB DIMM x 1 (5410/5420)

Maximum memory: 64MB (5260/5270), 136MB (5410/5420)

HDD: 800MB (5260), 1.2GB (5270), 1.6GB (5410/5420)

Expansion slot: LC III PDS slot x 1 (5260/5270), PCI slot x 1 (5410/5420)

Communication slot: Communication slot x 1 (5260/5270), Communication slot II x 1 (5410/5420)

Video input (5260, 5410 are optional), TV tuner (other than 5270 is optional), TV / FM radio tuner (other than 5420 is optional)

FAX modem: Built-in as standard, 28.8Kbps

5260 Included Software: Freddi Fish, Grandma and Me, Quick English Jr.3, Spin Doctor, Thinkin'Things

5270 included software: Kid Pix Studio, Making Music, Quick English Jr.3, Spin Doctor, Stradi Wakius, Thinking'Things, VideoShop

5410 Attached software: AI Shogi, Claris Impact, Transfer Information, Planet Arizona, Stradi Wakius, T. Break

5420 Included Software: Art School, Making Music, Transfer Information, Planet Arizona, T. Break, Level Assault II, MoviePaint, QT Album, VideoShop