For some reason, a DOS / V personal computer assembly course was being held at a business show. There is also an exhibition of cases by domestic vendors.
 Personal Business Assist schedules a "PC / LAN assembly demonstration". This was surprisingly crowded, and a wild explainer (pictured) stood on the podium and said, "With this equipment, you can easily make cables. I forgot the connector. Dokandokan (the sound of dropping things). The explanation and demonstration were also wild. I think Melco is doing the same thing, but this one feels systematic and smart. However, it seems a little surprising to come to the business show and assemble a personal computer.
---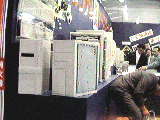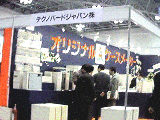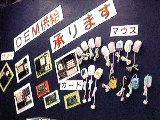 Techno Bird Japan exhibited cases that make PCs happy. They also lined up accessories such as mice, and stuck the "OEM available" tag on the wall. There is also a dedicated booth for Taiwanese manufacturers, and there are plenty of parts for self-made groups, so that is the "Taiwan booth edition".