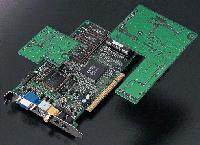 Announcement of news release dated April 26, '96
Main unit standard price: 39,800 yen
[Option]
DRAM expansion kit 3DV-2M \ 14,800
Video input kit \ 12,800
MPEG expansion sub board \ 19,800
Video output sub board \ 14,800
TV Tuner \ 29,800
Contact:
Canopus Co., Ltd. Power Window dedicated dial
Tel . 078-992-5846 / Fax. 078-992-2998


#ffffff; display: inline !important; float: none;"> Canopus Co., Ltd. will release the graphic accelerator card "Power Window 3D V" equipped with the 3D accelerator chip "ViRGE" from the end of May.
 ViRGE is S3's latest 3D accelerator chip, which supports Direct Draw in hardware. In addition, the game software "actua soccer Japanese version" that makes use of the 3D function is included.
 The current driver software does not support Direct 3D, but it will be distributed free of charge on WWW etc. when the support is completed.
[Feature]
, image memory using the EDO RAM in, 1,024 × 768 possible at the time of display dot of full-color non-interlace flicker-free display of horizontal 75Hz (4MB is installed)
in-image memory standard 2MB, extension possible to 4MB
– " A wealth of multimedia options such as "Video Input Kit", "Video Output Subboard", "TV tuner", and "MPEG Expansion Subboard" are available.
-Video playback "Video Viewer", "Power Cinema 95 for PW", JPEG Includes a wealth of software such as the image viewer "Power View 3.0 for PW"