Last year's sales performance


was mainly due to the delay in launching laptops,

which was below the initial schedule.
Epson Direct "Endeavor NT-600" laptop released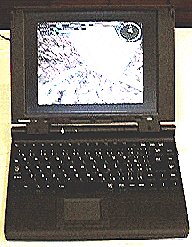 '96 / 5/15 Presentation held
Standard price:
133MHz 285,000 yen ~
100MHz 220,000 yen ~
 Epson Direct Co. , Ltd. has added two new models to the notebook computer "Endeavor NT-600" and revealed the sales results of last year and the outlook for this year.
[Endeavor NT-600 specifications]
CPU is Pentium 133 or 100MHz

TFT color liquid crystal (133MHz), DSTN color liquid crystal (100MHz).

Both display SVGA (800 x 600 dots)

Size: 292 x 220 x 45 mm Approx. 2.7 kg

RAM 8MB (up to 40MB)

C & T 65548 Graphic Chip & 1MB RAM

Built-in 3.5 inch FDD

Equipped with a cooling fan on the back
 The results report of Epson Direct, which was revealed on the day, is as follows.
Last year's shipments were about 35,000 units (40% desktop, 25% tower, 25% integrated, 10% notebook), which was less than the originally planned 50,000 units.

Compared to the actual 25,000 units in 1994, it was 140% of the previous year, but profits fell from a large surplus in 1994 to almost even.

The main reasons for the decline in profits are the sluggish sales of notebooks, which was 36% in 1994, and the sluggish market for companies.

In 1996, we will change our sales strategy and aim to develop high-value-added products unique to direct sales and strengthen the notebook field.