The standardization and popularization of the driver

attached to the CD-R drive "CDU524R"

is awaited.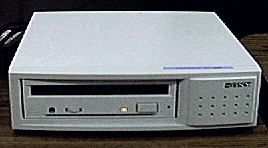 '96 / 5/20 News release released
Standard price:
CD-R drive unit "CDU524R"
118,000 yen
Contact:
Sony Corporation Data Storage Information
Tel.0462-27-2237
 Sony Corporation has developed software "CD-R FS" that can use a CD-R drive as a write-once device by incorporating it into Windows 95. It was attached to the company's CD-R drive "CDU524R".
 Conventionally, it was necessary to write a CD-R using dedicated writing software, but in a system incorporating a CD-R FS, it is recognized as a normal readable / writable device. However, since the CD-R is a write-once device (write-once only), the area remains even if the file is deleted, so the remaining capacity does not increase.
 Media written with CD-R FS can be read by a general CD-ROM drive by selecting "Freeze" from the right-click menu and performing freeze processing. However, once the freeze process is performed, the session is recreated, so the remaining capacity is reduced by 13.5MB required for that purpose.
 CD-R FS is software that greatly improves the usability of CD-R, which has been a special device until now, and can greatly contribute to the spread of CD-R.
 However, CD-R FS is only compatible with Sony CD-R drives capable of packet writing, and its operation with other companies' products is not guaranteed. We hope that compatible drivers, including those of other companies, will become widespread, and that the CD-R FS format will be established as an exchange medium.