At the business show, the internet was in full bloom. Here are some of the things I noticed.
 Electronic money is also attracting attention on the Internet, and MONDEX is also known as one of them. It used an IC card, and a card reader made by Hitachi was on display. Something like the blue keychain in the photo checks your balance, and when you insert your card, your balance is displayed in yen and dollars. The booth was small at the end, but people were gathering.
---
 The "Electronic Commerce (EC) Experience Zone" was mainly operated by Nippon Computer. Dozens of Internet terminals "iBOX" for about 50,000 yen that can be used by connecting to the TV developed and sold by the company are lined up, and actually go to sites such as Rimnet, Itoya, FREX, ITOKI, and Denki Club (Nomura Research Institute). It's about getting access and shopping. It's a bit strange to see people lined up in a booth that's finely divided like an election polling place.
 I actually tried using it, but it took almost an hour to buy one 500 yen telephone card due to network and machine troubles, slow processing speed of iBOX, and difficulty in use. I have. Also, most of the sites other than the sites prepared by Nippon Computer need to register as a member online in order to shop, so I didn't get the impression that it was a very casual experience. The questionnaire asked, "Did you actually shop?", But how many people answered YES?
---
 Although it is a common booth, there was a homepage creation corner and a Java experience corner, which were filled with middle-aged men. There was also an internet surfing corner, but it seems that there were many young women here. After all, is the person who gathers different just because the name is different? ..
---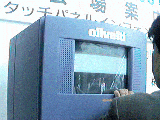 At the entrance of the venue, the usual venue guidance and exhibitor booth location guidance machines were installed, but all of them were HTML-based systems using Netscape. The operation is not a mouse but a touch panel. Those who understand it will understand it immediately, but it may have been difficult for those who saw it for the first time. Only experienced people can understand that the part in blue can be pressed (clicked) with a finger.
---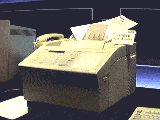 Matsushita Electric exhibited Internet fax. In other words, if you connect directly to the Internet instead of a telephone line and type an e-mail address instead of a telephone number, the document will be sent to the other party's fax. Certainly, it seems to reduce communication costs, but how widespread will it be?