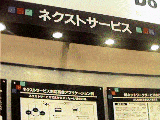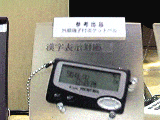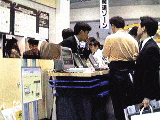 NTT is demonstrating the next service. The pager is compatible with Kana and Kanji, and has an auto dial function. There is also a pager answering machine service. The pager with an external terminal was put up as a reference exhibit here, and it is said that the message received by this next service can be transmitted to an external device. A lunch box-sized item with a built-in pager was exhibited, and from there it was connected to an electric bulletin board and news was flowing. It may be useful for news to be delivered to personal pagers and automatically accumulated.
---
 This is the "Advanced Cellular Phone-N" that is already familiar in magazines. CPU 386, 2MByte memory, 8MB ROM, IrDA, MS-DOS Ver5 system with telephone / FAX / cc: Mail support / PC communication / PIM function. One was able to actually turn on the power and play with it, but the other was just a model with the batteries removed.
---
 NEC exhibited a PC card type PHS card as a reference exhibit. Of course, since the standard for digital communication has not been decided, it is said to be "for premises", but in the future, of course, we plan to release a version that can be used on the go. The companion asked, "Should I reset it?" Because I couldn't demo it well, probably because of a machine problem. The mobile gear, which has just been released, is also on display.
---
 The corner of Toshiba's VHS size personal computer Libretto is just a crowd of Kuroyama. Despite the large number of installations and exhibits, the appearance of the machine was completely buried in the mountain of people, and at first glance it was hard to notice the Libretto corner. It's like I noticed with a flag myself. Everyone is enthusiastic about playing around with it, and it doesn't matter what the explanation staff says. The explainer seemed to be screaming, sweating …