800 x 600 dot TFT LCD with B5 file size,

successor to ThinkPad 530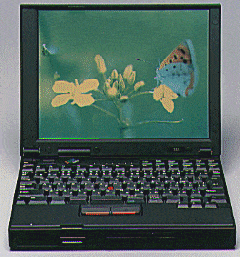 IBM Japan has announced a portable notebook PC "ThinkPad 535".
The 535 is the successor to the 530 series, which is almost the same size and weight as the B5 file size, and is equipped with a Pentium 120MHz CPU and an 800 x 600 dot 10.4 inch TFT LCD.
 Like the 530, it has a built-in 28.8kbps modem function and sound function by DSP M Wave. The battery is lithium-ion and can operate continuously for 3 hours.
 As for portable notebooks, A4 file size types such as 560 have also appeared, but so-called sub-notebook size models such as 535 are also hard to throw away in terms of portability. The key pitch, which is a weak point of the sub note, is also slightly expanded to 17 mm.
[Specifications of ThinkPad 535]
RAM: 8MB EDO (up to 40MB)

Body size: 247 x 186 x 41 mm

Weight: 1.7Kg (including battery pack)

FDD: External

PC card slot: TYPE2 x 2 or TYPE3 x 1

Video chip: Trident Cyber ​​9320 (RAM1MB)

Pointing device: TrackPoint3

Main I / F: Serial x 1, Parallel x 1, Mouse & keyboard combined x 1, VGA x 1, IrDA x 1, Sound input / output mini plug x 1 each

Battery: Lithium ion

Battery operating time: Approximately 3 hours