The ultimate home ISDN TA with built-in DSU




PCMCIA TA card with both synchronous and asynchronous modes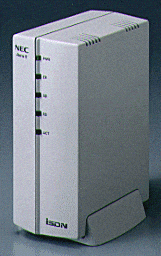 '96 / 5/7 News Release Announcement
Standard price:
Aterm IT45DSU (PC-IT45D1) 64,800 yen
S point unit (PC-IT / U01) 4,800 yen
Aterm IC20 49,800 yen
Contact:
NEC PC Information Center
Tohoku Tel.022-262-9800
Tokyo Tel.03-3452-8000
Nagoya Tel.052-251-9800
Osaka Tel.06-943-9800
Kyushu Tel.092-262-9800
NEC PC Information FAX service
BOX number 6420
Tokyo 03-3769-9821
Osaka 06-304-9821

#ffffff; display: inline !important; float: none;"> NEC released the TA "Aterm IT45DSU" (model name: PC-IT45D1) for INS64 with a built-in DSU and a power failure mode from May 7, and will ship in late May.
 This machine is a product with a built-in DSU in the conventional "Aterm IT45", so there is no need to purchase a DSU (23,900 yen) separately, construction can be simplified, and you can install it yourself.
 The specs are perfect, and most of the functions required for TA at the moment are available. It can be regarded as the appearance of the favorite of household TA.
[Main functions]
Built-in two analog ports

Asynchronous / synchronous conversion function enables high-speed communication of synchronous 64kbps.

Asynchronous also supports 57.6kbps

Equipped with AA batteries to supply power to analog ports even during a power outage

Settings can be easily done with an application on Windows

Stills callback function that can be called back without software setting (only possible between IT45 series and between IT45 <-> IC20)
 At the same time, the "S point unit" (model name: PC-IT / U01) was released as an option for the IT45DSU. If this unit is built into the IT45DUS, two bus connection connectors for ISDN devices can be added without any construction work, and ISDN devices such as TA can be connected.
 This makes it easy to use the second TA at home.

 At the same time, the TA card "Atem IC20" was also released, and shipping is also scheduled for late May. The IC20 is the size of PCMCIA TYPE2 and is the first to support both synchronous 64kbps and asynchronous 57.6kbps.
 With the advent of IC20, it has become possible to build an optimal environment for SOHO, such as IT45 in the office, IT45DSU in the home, and IC20 in the mobile. In this environment, callback communication using the stills callback function is always possible from home or mobile to the office.
 Moreover, if you connect the optional S contact unit to your home IT45DSU, you can connect it as a second TA from the IC2O you brought back.
 NEC's efforts in the TA field for some time have been remarkable, and I look forward to the inspiration of other companies.

[Main functions]
PC card type TA supports both synchronous and asynchronous for the first time

Compatible with Windows 95 Plug & Play function
Attach the Windows 95 modem definition file required for the first installation
Attached "IC20 Command Helper", an application that allows various settings to be made on Windows
AT command is adopted as a control command.

The application for the modem can be used as it is

Can operate as a client of Stills Call Pack (auto callback by hardware) with IT45 series