For users who want to use it immediately after purchase,




Pippin @ Atmark can be purchased at the store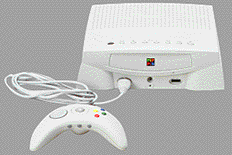 Announced on May 27, '96
Standard price: 49,800 yen (Pippin @ Atmark body, 4 CD-ROMs included)
Contact: Bandai Digital Entertainment Support Center TEL: 03-3864-5588

 Bandai Digital Entertainment Co., Ltd. will start selling Pippin @ Atmark at stores from June 15th.
 Since its launch in late March, it has adopted two sales methods: direct sales over the phone and acceptance of applications at member stores, but the company will also start over-the-counter sales in response to the desire to take it home immediately after purchase. .. The table below lists the planned retail sales dates for the main unit and peripheral devices. Other plans to release include Zip drives, printers, and VGA monitors, but the release schedule is undecided.
[Scheduled store release date of main unit and peripherals]
Product

price

Release date

Feature

Pippin @ at mark

49,800 yen

'96 / 6/15

Pippin @ Atmark Main unit


CD-ROM 4 sheets




Controller, connection cord, manual

ATMARK modem

12,800 yen

'96 / 6/15

14.4Kpbs

ATMARK floppy unit

12,000 yen

'96 / 6/15

Can


save texts and pictures

such as TV works and e-mails

ATMARK keyboard

9,800 yen

'96 / 6/15

With


tablet input unit

that enables full-scale text input

Memory card

Undecided

Scheduled to be released

2, 4, 8MB memory card